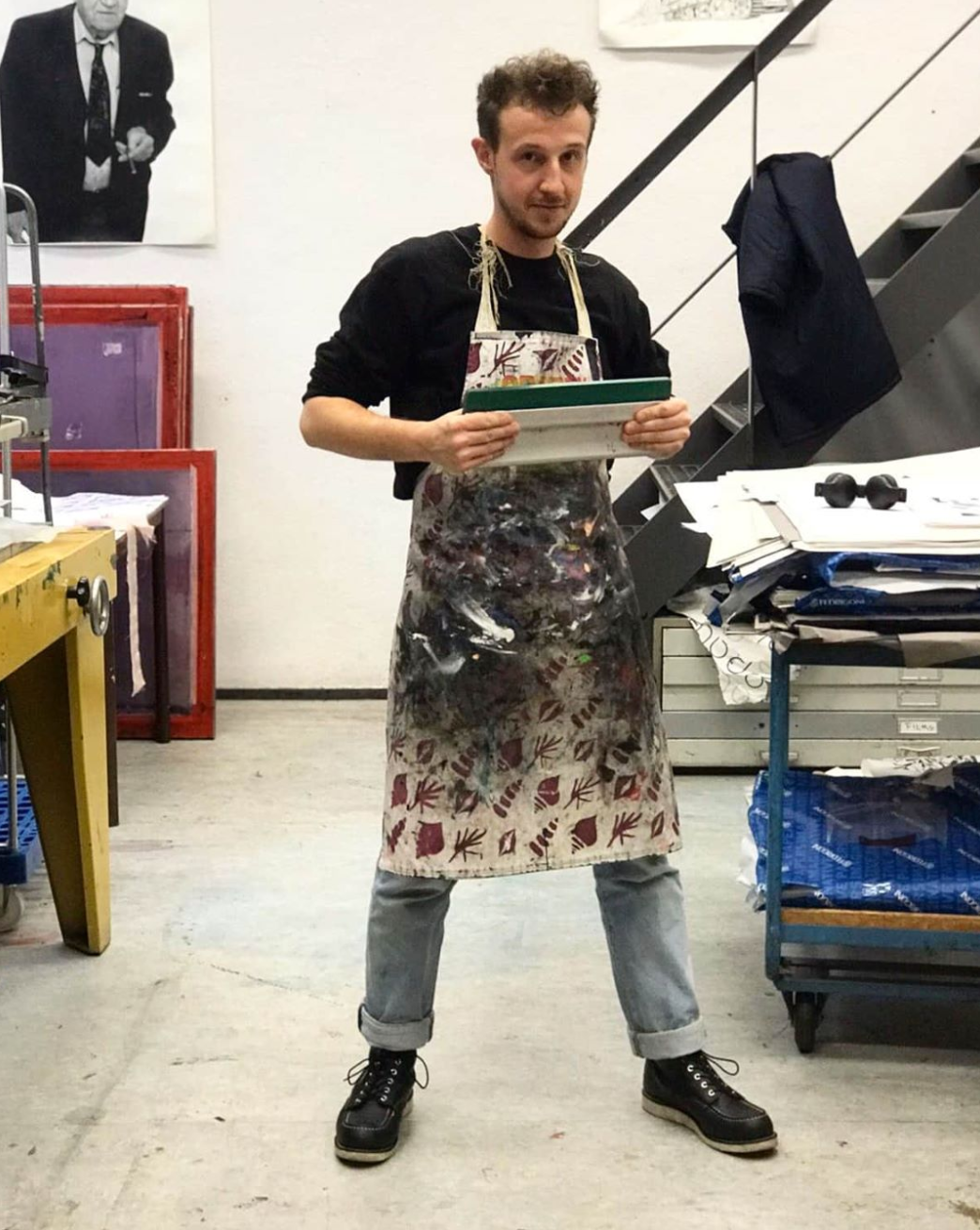 ''As an illustrator I work with a lot of colors because colors
are emotions and emotions are life. 
With a positive mindset and a smile on his face, Sibumski is inspired by subjects such as friendship, character traits and society as a whole. Nowadays, we all live busy lives were we often forget the beautiful simplicity of meeting up with friends, exercising and having dinner. Sibumski believes in the power of these moments, they empower our mental well-being. Sibumski analyzes the way people communicate, move or live and transforms this analysis in organic shapes with a thoughtful color palette. 

This results in concepts where abstraction and figurative elements are combined. This is Sibumski's signature which led to collaborations which organizations such as North Sea Jazz Festival and Paradiso Amsterdam. Furthermore, Sibumski's designs can be used for editorial design, tote bags and beer cans for example. Next to this, Sibumski sells original screen printings and exhibits his work. 

Sibumski strives for a well-balanced combination of working digitally and using traditional ways, such as screen printing. To produce the desired color palette, Sibumski works with Risograph and screen printing. Afterwards he optimizes his work by using digital software to add the desired contrasts and warmth. The combination of these techniques, results in a hand-made appearance for each individual piece.
I love colorful collaborations.
You as well? Lets talk !



Email:


info@sibumski.com



Instagram:


@sibumski_ 
_____________________
Worked for:



North Sea Jazz Festival / Motel Mozaique Festival / Uit Agenda Rdam / Bar Broker / Cross Comix
TENT Rotterdam / MOAM Amsterdam / Paradiso Amsterdam / Cardboarders / Wildeburg Festival
 ASAR Amsterdam / UNU Rotterdam / Revolution Foundation / 
Several private commissions
Theater Walhalla, De Biecht, Rotterdam | Maart 2017
Gemaal op Zuid, Rotterdam | Juni – Juli 2017
Motel Mozaique Festival | October 2017
North Sea Jazz Festival 2018 | July 2018
Paradiso Amsterdam | September 2018
Colours May Vary, Leeds | March 2019
Croos, Rotterdam | October 2019​​​​​​​

 Education:



2012- 2016 | Graphic Design, Grafisch Lyceum Utrecht
Jan - May 2019 | Exchange period BA Illustration, Leeds Arts University
2019-2020 | Minor Branding, Willem de Kooning Academy Rotterdam
2016 - 2020 | BA Illustration, Willem de Kooning Academy, Rotterdam